Sako 85 Hunter Wood/Blued
The 85 Hunter is perfectly balanced and beautifully built. Featuring high-grade walnut stock and satin blued finish on the barrel and receiver. Detachable two-row staggered steel magazine and cold hammer-forged free-floating barrel are standard on all Sako 85 models.

Featuring:

Total Control Latch
The Total Control Latch (patent pending) secures the magazine which can be detached only when simultaneously pushed upwards while the latch is pulled back. This can be performed simply with one hand, but cannot happen unintentionally or accidentally by contact with natural obstacles.

Controlled feed
Unique to the Sako 85 are three lugs in the bolt, combined with a two-row staggered magazine and the controlled round feed. The bolt raceway boasts five guiding surfaces which results in smooth and fast bolt cycling. This translates into fast and accurate repeat shots.

Safety system
Sako�s 2-way safety locks both the trigger and the bolt handle, as well as blocking the firing pin. The unique bolt release button in front of the safety catch allows loading or removal of a cartridge from the chamber with the safety engaged.

Trigger system
The trigger system is adjustable from the magazine well: it comes set at the factory at approximately 1.5 kg, but can be adjusted between 1 and 2 kg weight of pull. The detachable magazine can also be loaded through the ejection port. The magazine follower is made of aluminium, to ensure faultless operation..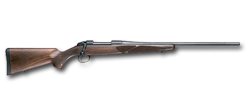 | | | |
| --- | --- | --- |
| | Variant Name | Calibre |
| 85000X | XS | |
| 85010X | S | |
| 85010X | SM | KS*, PS* |
| 85020X | M | |
| 85030X | L | |